HOTEL
The official Orgelfest 2013 hotel is:
Delta Ottawa City Centre,
101 Lyon Street,
Ottawa, ON
Canada K1R 5T9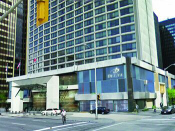 Information on the hotel and its amenities is found on their website.
Notes: To reserve on-line use the Delta Booking Tool button below to get our special Orgelfest 2013 rates.
The Promotional Code for on-line booking is GRCCO.
The Promotional Code for telephone booking is 0813RCCO.
Room Rates:
The Orgelfest daily room rate is $149 CDN + 13% tax (includes High Speed Internet access) for single/double room.
Children up to 18 years old, sharing with parents free; maximum 4 persons to each room.
Each extra person sharing a room will be charged $20 per night.
These rates are available for 2 nights pre and post convention period.
Other rooms including suites available up to $289 +tax.
Check-in time, 3:00pm; check-out time 12:00 noon.
These room rates are available if bookings are made before July 15, 2013.
Reservations:
To reserve on-line, use the Delta Booking Tool button below to get our special Orgelfest 2013 rates. (Promotion Code: GRCCO)
OR
You may also reserve by phone, and quote 0813RCCO.
Telephone 1 855-330-5360 (toll free) or 613-237-3600 Ext. 6200
Fax: 613-688-6821
Reserve by July 15, 2013
---
© Copyright MMXIII RCCO Ottawa Centre
This page was last updated on: Sunday, 16-Sep-2018 13:45:37 EDT