RCCO Ottawa Centre
CRCO Section d'Ottawa




PO Box 2270 Station D
Ottawa ON K1P 5W4
Welcome to the Ottawa Centre of the
Royal Canadian College of Organists
Welcome to the Ottawa Centre RCCO website. Please use the menu above to browse our site. If you are using an older browser and don't see the menu then you can use the text menu at the bottom of every page.
NEWS BRIEFS
UPCOMING PROGRAMS
We will be posting our program for the 2017-2018 season in early July.
PRO ORGANO
Next season's Pro Organo recital series is now available on the
Pro Organo
page. You may purchase your season ticket and make a donation on line at the bottom of the Pro Organo page.
---
CENTRE HISTORY
Please note that this timeline can be found by selecting Centre Info | Web Archive pages | Ottawa Cente History Timeline on the menu above.
The Centre History kiosk made its debut at Orgelfest 2013. This is an interractive display which places significant events on a timeline. Bill Vineer supplied muich of the content and Rick St Germain put it all together. Click on the graphic below to access this display.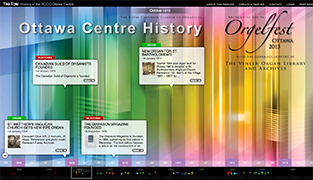 ---
For contact information, see our
Executive List
or press the button below.
---
©Copyright MMXVI RCCO Ottawa Centre
RCCO-Ottawa Centre is a Registered Charity: 11912 6498 RR0001

This page has been validated by
w3.org
validation as XHTML 1.0 Transitional.
This page was last updated on: Thursday, 15-Jun-17 22:15:02 GMT