RCCO Ottawa Centre
CRCO Section d'Ottawa




PO Box 2270 Station D
Ottawa ON K1P 5W4
You are here:
Centre Events
CENTRE EVENTS
2017-2018 SEASON
Events will be posted as soon as I receive the information.
---
The main centre programme will also include a number of educational events. Workshops organized by the Education Committee are shown with a green title as above, and green bar down the side as in this text.
---

To Top
Organ Crawl - Ottawa
Visit to various organs in the Elgin Street area.
Saturday September 21, 2019
1:00 pm at First Baptist Church
(Elgin at Laurier)

An Ottawa organ crawl that will feature four churches situated on Elgin Street will begin at First Baptist at 1 p.m., move to Saint John the Evangelist Anglican at 2:00 p.m. Then we will visit Knox Presbyterian at 3:00 p.m. The crawl will end at Saint Marc United at 4:00 p.m. We will conclude the crawl with dinner, possibly at the Elgin Street Diner. All churches are at a walking distance from one another. Please note that Elgin Street is still heavily under construction. You may want to consider parking nearer to Gladstone Avenue near Elgin or near Saint Marc United. Also there is free parking on weekends at City Hall. For more information, please contact Gilles Leclerc.
---

To Top
PREPARATION FOR THE CHOIR-TRAINING CERTIFICATE EXAMINATION
Frances Macdonnell
A series of six workshops - September 2019 to May 2020
First workshop
303-3099 Carling Ave
(ring #20 at front door)
Sat, September 28, 2019
10 am - noon
Several Ottawa Centre candidates have passed the RCCO's Choir Training Certificate Examination in the past few years. I will again offer another series of educational workshops this year to prepare interested members for next spring's exams. It's not a very difficult exam, and is open to every member of the RCCO who has even a little experience in working with choirs; previous candidates have found that passing this exam is very confidence-building!
In this exam, candidates demonstrate their ability to plan a small church choir programme, direct a short choir practice, answer some straightforward written questions on choir management and choral planning, write some simple harmony, and do some easy ear tests. The outcome of this examination is a Certificate of Proficiency in Choir Training. For the Practical exam, my own choir, the Cranmer Singers, will be the test choir.
The first of these workshops will be held on Saturday September 28 at my apartment, 303-3099 Carling Avenue, from 10 am until noon. This location is on Carling Avenue just west of Bayshore Drive; there is a large visitors' parking lot directly in front of the building.
Dates for future workshops through the year will be planned when it is established how many members are interested in participating. For further information, please contact Frances Macdonnell, or call 613-726-7984. It would be good to know in advance approximately how many members are coming to the first workshop, so that I will have enough copies of the hand-outs.
I look forward to seeing prospective candidates on September 28!
---

To Top
ORGANIST-CLERGY DINNER
KS on the Keys
1029 Dazé St, Ottawa
(Near NW corner of Bank and Hunt Club - across from the South Keys Theatre)
Monday Oct 28, 2019
6:00 pm gathering
for 6:30 pm dinner
MENU:
Rolls
Salad
To be chosen at the restaurant, the main menu is a choice of:
Chicken parmigiana
Salmon with lemongrass
Chicken breast filled with asparagus and cream cheese
Vegetarian pasta Primavera
Beef Souvlaki
Dessert
Tea/ coffee
Cost: $41:00 (incudes tip)
Registration:
Please register by October 21st by sending a cheque payable to RCCO, Ottawa Centre and mailing it to:
Guest speaker: Rev. Victoria Scott (St. Luke's Anglican Church)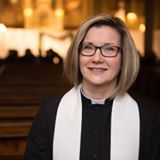 Please reserve the date now, and let your clergy know about it too! See you there!
---

To Top
STUDENT RECITAL
Paroisse St-François d'Assise
1060 Wellington Street West (at Fairmont)

Saturday March 7, 2020
Time 1:30 pm

Come and hear our students in recital. The purpose of this recital is to give students some valuable playing experience, so even beginning students are encouraged to play.
Free-will donations will be collected and will go towards the Scholarship for Beginning Organ Students. Come out and support our young organists!
---

To Top
THE GREAT BACH MARATHON IV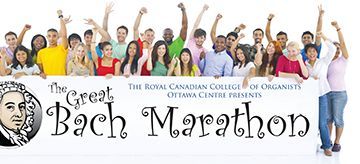 Woodroffe United Church
207 Woodroffe Ave
Saturday May 2, 2020
Time: 1:00 - 2:15pm.
Young performers will buid an OrgelKidsCan pipe organ.
2:15-6:00 pm.
Bach performances
The Fourth Great Bach Marathon will begin at 1:00 pm with the young people participating in an OrgelKidsCan event. They will have the opportunity to construct a small organ and to play their pieces on the organ. We will invite a couple of experienced organists to play compositions written especially for the small organ. Joshua Zentner-Barrett will be the workshop leader for these two sessions. At approximately 2:15 pm the young piano students will be invited to play their prepared pieces on the lovely grand piano.
At the conclusion of the children's program, more experienced organists will be invited to present a selection from The Great Eighteen Chorale Preludes, BWV 651-668, Schubler Chorale Preludes, BWV 6445-650, or from the Orgelbuchlein, BWV 599-644.
As we gather at Woodroffe United Church, let us all thank the church staff and choir, Katarina Jovic, director, for hosting us so graciously throughout the rehearsals the days before the marathon and during the marathon. And, thank you to all of you who volunteer your time to help behind the scenes and support the performers. Each of you makes the difference in the success of the Great Bach Marathon 4.
Come when you can; leave when you must.
For additional information, email Sondra Goldsmith Proctor or phone (202)841-8712.
---

To Top
ANNUAL GENERAL MEETING
St Paul's Presbyterian Church
971 Woodroffe (just North of the Queesnway)
Monday June 1, 20209
Time: 7:00 pm refreshments
7:30 meeting

This is your centre. The executive values the feedback received from members. Come out and voice your opinions on what you would like to have your Centre do.
The Annual General Meeting of the Ottawa Centre is our opportunity to conduct the necessary business of the College but also to celebrate the year past and look forward to the coming year. All members are encouraged to attend and participate in decision making and to hear reports of the various convenors and national council representatives.
All members are encouraged to attend and participate in decision-making of your Centre and to hear reports of the various convenors and National Council representatives. There is plenty of parking and the room is air-conditioned.
---
ARCHIVED EVENTS OF PREVIOUS SEASONS
---
©Copyright MMXIX RCCO Ottawa Centre
RCCO-Ottawa Centre is a Registered Charity: 11912 6498 RR0001

This page has been validated by
w3.org
validation as XHTML 1.0 Transitional.
This page was last updated on: Tuesday, 10-Sep-2019 07:43:41 EDT