RCCO Ottawa Centre
CRCO Section d'Ottawa
PO Box 2270 Station D
Ottawa ON K1P 5W4
Welcome to the Ottawa Centre of the
Royal Canadian College of Organists
Royal Canadian College of Organists - Ottawa

Members! Advertise your events.
Something musical happening in your life? Members, send your events to:
publicity (at) rcco-ottawa (dot) ca
and we'll share them on
Facebook
!
NEWS BRIEFS
---
PRO ORGANO 2023-2024 SEASON
Our 2023-24 season is now announced. The details are on our Pro Organo page. Come and bring you friends to these 4 exciting concerts.
---
PREPARATION FOR THE CHOIR-TRAINING CERTIFICATE EXAMINATION
Frances Macdonnell
A series of six workshops - September 2023 to May 2024
The RCCO Ottawa Centre announces a series of Saturday-morning workshops to prepare RCCO members for the RCCO's Certificate in Choir-Training examination, which is offered by the College each May. These workshops will be given by Frances Macdonnell, Organist Emerita, Christ Church Cathedral, Ottawa.
---
Thomas Annand in Recital
This is not an Ottawa Centre event, but of interest to members
Sunday November 26, 2023
3:00 pm
St John the Evangelist
Somerset at Elgin
A harpsichord recital featuring works by anniversary composers William Byrd (400th anniversary of his death) and György Ligeti (born 1923) as well as favourite compositions by Bach, Scarlatti and Rameau.
More info 613-261-0376, Thomas Annand
---
GODFREY HEWITT GRAND PRIZE - 2023 National Organ-Playing Competition
The bi-annual National Organ-Playing Competition presented by the RCCO took place in Toronto during the Toronto Organ Festival in July 2023. At the end of the Finals of the Competition, held in Lawrence Park Community Church, Toronto, the Godfrey Hewitt Grand Prize of $5,000 was awarded to Martin Jones, who had been awarded the Godfrey Hewitt Memorial Scholarship in 2021. The Muriel Gidley Stafford Third Prize of $1,000 was won by Alexander Straus-Fausto who was recently awarded the Godfrey Hewitt Memorial Scholarship for 2023.
Read thre details in the Press Release.
---
GODFREY HEWITT SCHOLARSHIP AWARD, 2023
The annual Godfrey Hewitt Memorial Scholarship, has been awarded for 2023 by the Godfrey Hewitt Memorial Fund to Alexander Straus-Fausto. Full details are in this Press Release.
---
CENTRE HISTORY
Please note that this timeline can be found by selecting Centre Info | Web Archive pages | Ottawa Cente History Timeline on the menu above.
The Centre History kiosk made its debut at Orgelfest 2013. This is an interractive display which places significant events on a timeline. Bill Vineer supplied muich of the content and Rick St Germain put it all together. Click on the graphic below to access this display.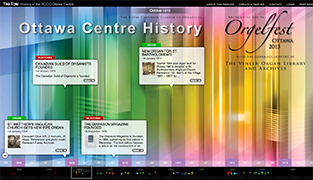 ---
For contact information, see our
Executive List
or press the button below.
---
©Copyright MMXXIII RCCO Ottawa Centre
RCCO-Ottawa Centre is a Registered Charity: 11912 6498 RR0001

This page has been validated by
w3.org
validation as XHTML 1.0 Transitional.
This page was last updated on: Monday, 27-Nov-2023 17:23:50 EST