RCCO Ottawa Centre
CRCO Section d'Ottawa




PO Box 2270 Station D
Ottawa ON K1P 5W4
Welcome to the Ottawa Centre of the
Royal Canadian College of Organists
Welcome to the Ottawa Centre RCCO website. Please use the menu above to browse our site.

Members! Advertise your events.
Something musical happening in your life? Members, send your events to:
publicity (at) rcco-ottawa (dot) ca
and we'll share them on
Facebook
!
COVID-19 virus and the RCCO - Ottawa Centre
The Ottawa Centre takes the COVID-19 virus seriously and is closely monitoring the situation. We will adhere to the advice of Ottawa's Medical Officer. Watch this pages for event changes.
---
NEWS BRIEFS
---
PRO ORGANO OTTAWA
MATTHEW WHITFIELD

(TORONTO)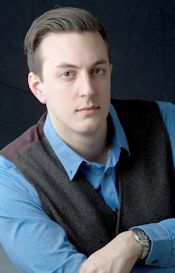 Welcome to the virtual concert by Matthew Whitfield of Toronto which will stream on Friday February 26 at 7:45pm. This is the concluding concert of the 2020-2021 concert series which will be available until March 31, 2021.
There is a pre-concert interview of Matthew by Shawn Potter which you can watch at any time. All concert information and link to the stream and interview can be found here.
2020 Ottawa Kiwanis Music Festival Organ Classes Results
Last April, when the Kiwanis Music Festival was scheduled to take place, most of its classes were held virtually because of the pandemic; but because the churches had closed and the organ students were not able to practise, the organ classes had to be delayed for some months. Even now, as you know, there are some students who still have difficulty obtaining practice time.
In the end, the classes took place on Saturday November 21 in the First Church of Christ, Scientist; we are very grateful to the church for their welcome and hospitality to the students. The Kiwanis Festival kindly gave the RCCO permission to run the classes ourselves (though they paid the insurnace to cover the day) and they transferred the available scholarship money to the RCCO; Mervyn Games, the resident organist of the church, generously allowed practice time for the students, and Rachel Laurin did a wonderful job as adjudicator. Thank you, everyone!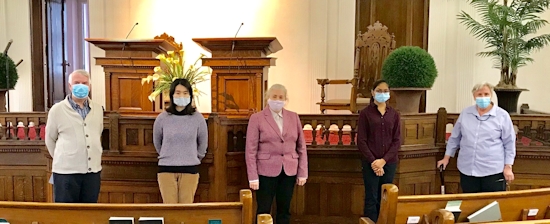 Mervyn Games, Minako Uchino, Rachel Laurin, Aleesha Katary, Frances Macdonnell
Results: Click more »
« less
Six students had registered to compete last April; one of them has since left Ottawa, and one is presently unable to practise. Of the remaining four students, two elected to record their pieces and submit them electronically, and the other two played live. Here are the classes, and the marks awarded by Rachel Laurin, who heard both the electronic submissions and the live performances:
Class OG 104: Bach, Junior
Prelude and Fugue in F major (from the Short Eight)
1. Aleesha Katary - 87%

Class OG 101: General, Junior
Chorale Prelude on St. Peter, Healey Willan
1. Aleesha Katary - 86%
2.Yi Zhou (sent in by recording) - 83%

Class OG 102: General, Intermediate
Intermezzo (12 Stücke, Op. 80), Max Reger
1. Minako Uchino - 84%

Class OG 106: Bach, Senior
Trio on Herr Jesu Christ, dich zu uns wend (BWV 655)
1. Aurora Xu (sent in by recording) - 87%

There were two scholarships available, totalling $1,100: the RCCO Ottawa Centre Scholarship of $500, and the Kiwanis Club of Ottawa Arnt Loa Scholarship of $600. Rachel Laurin decided to award these as follows:
Kiwanis Club of Ottawa Arnt Loa Scholarship
$350 - Aurora Xu
$250 - Minako Uchino

RCCO Ottawa Centre Scholarship
$400 - Aleesha Katary
$100 - Yi Zhou

Congratulations to all the students and their teachers! The deadline for the 2021 Kiwanis Music Festival is December 18; please enter in good time. I encourage all students to enter both classes available at your own performance level, the Bach and the General classes: when it comes to the awarding of scholarships, it creates a much stronger impression to have played in two different styles.
Well done, everyone, and we now look forward to the 2021 Kiwanis Music Festival!
Frances Macdonnell, Co-ordinator
---
How to Run a Virtual Choir
Godon Johnston's webinar on How to Run a Virtual Choir presented on September 19, was recorded and can be viewed on You Tube at: https://youtu.be/KxkJNOlA-8I
---
AGO 2020 Distinguished Composer Award
Congratulations to Rachel Laurin who was honored by the AGO with the 2020 AGO Distinguished Composer Award. The award was presented by David Hurd. You can hear Rachel's composition, Mr. Mistoffelees Overture in this video. The presentation of the award starts at 35:10 followed by a brief interview with Rachel by Chelsea Chin and then the world premiere of Mr. Mistoffelees Overture played by Alan Morrison.
---
CENTRE HISTORY
Please note that this timeline can be found by selecting Centre Info | Web Archive pages | Ottawa Cente History Timeline on the menu above.
The Centre History kiosk made its debut at Orgelfest 2013. This is an interractive display which places significant events on a timeline. Bill Vineer supplied muich of the content and Rick St Germain put it all together. Click on the graphic below to access this display.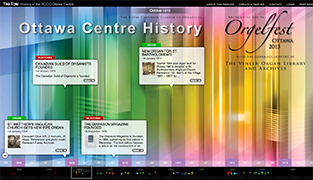 ---
For contact information, see our
Executive List
or press the button below.
---
©Copyright MMXXI RCCO Ottawa Centre
RCCO-Ottawa Centre is a Registered Charity: 11912 6498 RR0001

This page has been validated by
w3.org
validation as XHTML 1.0 Transitional.
This page was last updated on: Wednesday, 24-Feb-2021 11:22:14 EST