RCCO Ottawa Centre
CRCO Section d'Ottawa




PO Box 2270 Station D
Ottawa ON K1P 5W4
Welcome to the Ottawa Centre of the
Royal Canadian College of Organists

Members! Advertise your events.
Something musical happening in your life? Members, send your events to:
publicity (at) rcco-ottawa (dot) ca
and we'll share them on
Facebook
!
COVID-19 virus and the RCCO - Ottawa Centre
The Ottawa Centre takes the COVID-19 virus seriously and is closely monitoring the situation. We will adhere to the advice of Ottawa's Medical Officer. Watch these pages for event changes.
---
NEWS BRIEFS
STUDENT RECITAL
The Ottawa Centre of the RCCO is delighted to post their annual student recital which was held virtually this year. Further details and link to the concert are on the
Events page
.
---
GODFREY HEWITT SCHOLARSHIP WINNER 2021
The Godfrey Hewitt Memorial Scholarship for 2021, amounting to $5,000, has been awarded to Martin Jones. Read it all in the Press Release.
---
THOMAS ANNAND'S CAFÉ RCCO
On Sunday May 16,
Tom Annand
gave a wonderful talk on
Energizing your Bach
. If you missed the event and would like to see a recording of it please request a link from
events (at) rcco-ottawa (dot) ca.
---
PRO ORGANO OTTAWA
Our first concert this season will be given by Matthew Larkin of Ottawa on Friday June 4, 2021. The program and further details are available on the Pro-Organo page. Since we are not selling tickets for these concerts, we would appreciate receiving donations to help pay the artist's fee, church rental, and video production. A tax receipt will be issued for all donations over $10.
---
2021 Ottawa Kiwanis Music Festival Organ Classes Results
Congratulations to the Ottawa organ students who played so well in the organ classes of the 2021 Kiwanis Music Festival. Because of the pandemic, the classes were held electronically this year; the students submitted recordings which were judged in anonymity by Gordon Johnston, this year's adjudicator.
Here are the results:
Results: Click more »
« less
Bach, Intermediate
Prelude and Fugue in c minor (BWV 549)
First Place - Patrick Yang (watch video until May 31)

General, Intermediate
Chorale prelude on "In dulci jubilo" - J. G. Walther
First Place - Patrick Yang

Bach Senior
Third movement, Trio Sonata No 1
First Place - Aleesha Katary

General, Senior
Grave e adagio, Sonata II, F. Mendelssohn
First Place - Aurora Xu
Second Place - Aleesha Katary

You can see videos of all first place performances until May 31.
There were two scholarships available, totalling $1,100: the RCCO Ottawa Centre Scholarship of $500, and the Kiwanis Club of Ottawa Arnt Loa Scholarship of $600. These were awarded as follows:
RCCO Ottawa Centre Scholarship
$500 - Aleesha Katary

Kiwanis Club of Ottawa Arnt Loa Scholarship
$300 - Aurora Xu
$300 - Patrick Yang

Well done, everybody!
It has been very difficult for organ students to practise during the last year - some students have not been able to have access to a church organ at all - and we are thrilled that these students of Shawn Potter and Frances Macdonnell managed to practise and record their pieces, Shawn's students at First Baptist Church and Frances's student at the Christian Science Church which kindly made its space available for recording.
During the next few weeks, instead of having a Student Recital as we normally do each year, the Ottawa Centre will live-stream recordings of these three students and several other Ottawa organ students on othis RCCO website. Details will follow.
Please watch for this recording coming up, and please support and congratulate Ottawa's organ students, who are managing so well in these challenging times!
---
AGO 2020 Distinguished Composer Award
Congratulations to Rachel Laurin who was honored by the AGO with the 2020 AGO Distinguished Composer Award. The award was presented by David Hurd. You can hear Rachel's composition, Mr. Mistoffelees Overture in this video. The presentation of the award starts at 35:10 followed by a brief interview with Rachel by Chelsea Chin and then the world premiere of Mr. Mistoffelees Overture played by Alan Morrison.
---
CENTRE HISTORY
Please note that this timeline can be found by selecting Centre Info | Web Archive pages | Ottawa Cente History Timeline on the menu above.
The Centre History kiosk made its debut at Orgelfest 2013. This is an interractive display which places significant events on a timeline. Bill Vineer supplied muich of the content and Rick St Germain put it all together. Click on the graphic below to access this display.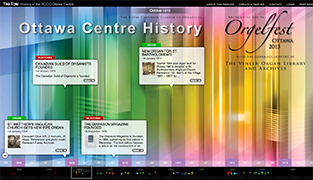 ---
For contact information, see our
Executive List
or press the button below.
---
©Copyright MMXXI RCCO Ottawa Centre
RCCO-Ottawa Centre is a Registered Charity: 11912 6498 RR0001

This page has been validated by
w3.org
validation as XHTML 1.0 Transitional.
This page was last updated on: Tuesday, 01-Jun-2021 22:47:54 EDT