RCCO Ottawa Centre
CRCO Section d'Ottawa
PO Box 2270 Station D
Ottawa ON K1P 5W4
Welcome to the Ottawa Centre of the
Royal Canadian College of Organists
Royal Canadian College of Organists - Ottawa

Members! Advertise your events.
Something musical happening in your life? Members, send your events to:
publicity (at) rcco-ottawa (dot) ca
and we'll share them on
Facebook
!
NEWS BRIEFS
---
PRO ORGANO 2023-2024 SEASON
Our 2023-24 season is now announced. The details are on our Pro Organo page. Come and bring you friends to these 4 exciting concerts.
---
PREPARATION FOR THE CHOIR-TRAINING CERTIFICATE EXAMINATION
Frances Macdonnell
A series of six workshops - September 2023 to May 2024
The RCCO Ottawa Centre announces a series of Saturday-morning workshops to prepare RCCO members for the RCCO's Certificate in Choir-Training examination, which is offered by the College each May. These workshops will be given by Frances Macdonnell, Organist Emerita, Christ Church Cathedral, Ottawa.
---
GODFREY HEWITT GRAND PRIZE - 2023 National Organ-Playing Competition
The bi-annual National Organ-Playing Competition presented by the RCCO took place in Toronto during the Toronto Organ Festival in July 2023. At the end of the Finals of the Competition, held in Lawrence Park Community Church, Toronto, the Godfrey Hewitt Grand Prize of $5,000 was awarded to Martin Jones, who had been awarded the Godfrey Hewitt Memorial Scholarship in 2021. The Muriel Gidley Stafford Third Prize of $1,000 was won by Alexander Straus-Fausto who was recently awarded the Godfrey Hewitt Memorial Scholarship for 2023.
Read thre details in the Press Release.
---
GODFREY HEWITT SCHOLARSHIP AWARD, 2023
The annual Godfrey Hewitt Memorial Scholarship, has been awarded for 2023 by the Godfrey Hewitt Memorial Fund to Alexander Straus-Fausto. Full details are in this Press Release.
---
KIWANIS FESTIVAL - ORGAN CLASS RESULTS
At the recent Organ classes in the Ottawa Kiwanis Music Festival, held in April 2023 in the Christian Science Church, our Student Member Aleesha Katary performed in both Open classes, playing a total of seven pieces by Bach (3 pieces), Franck, Mendelssohn, Vierne, and the American composer Robert Cundick. Aleesha is a student of Thomas Annand, and formerly of Frances Macdonnell. The adjudicator was Wesley Warren.
Wesley awarded both Scholarships available to Aleesha - the RCCO Scholarship of $500, and the Kiwanis Arnt Loa Scholarship of $600.
As Aleesha is beginning university next fall, these funds will prove to be extremely useful! At present, Aleesha is hoping to attend Waterloo University with a Major in Computer Engineering and a Minor in Music.
Thank you to the First Church of Christ, Scientist, and to their organist Mervyn Games, for their wonderful continuing hospitality to our students.
Congratulations, Aleesha - well done!
---
MEMBER OF THE YEAR AWARD
The RCCO Ottawa Centre is delighted to announce that this year's Member of the Year is Sue Sparks. Sue has had a lifelong interest in the organ, and has had a number of mentors along the way. Bernard Howard was the organist at the church she grew up in, and was the first to kindle the flames.
She holds a B.A. in Geography and a B.Ed from University of Western Ontario. She also holds the Specialist Certificate in Special Education. She was the Special Education Director at Redeemer Christian High School for many years. When she moved to Ottawa in 1981, as a young bride, it was Julia Mills who took her under her wing and once more fanned the flames.
After raising 4 children, it was Paul Wharram, the organist at McPhail Memorial Baptist Church, who encouraged and challenged her to once more embrace her love of the organ. After Paul retired from McPhail in 2010, Sue became the organist and choir director of the church, where she still serves.
After she retired from teaching, Sue was able to embrace her passion for the organ by studying with Robert Jones. She has attained the practical part of the RCCO Colleague exam and still hopes to complete the written part. It was Moira Hayes, who called Sue to ask if she would consider being the vice president of the Ottawa Centre. Sue accepted and went on to serve as President, National Councillor, and currently as secretary. Thank you Sue. We appreciate the dedication and support that you have given to our Centre.
-->
---
CENTRE HISTORY
Please note that this timeline can be found by selecting Centre Info | Web Archive pages | Ottawa Cente History Timeline on the menu above.
The Centre History kiosk made its debut at Orgelfest 2013. This is an interractive display which places significant events on a timeline. Bill Vineer supplied muich of the content and Rick St Germain put it all together. Click on the graphic below to access this display.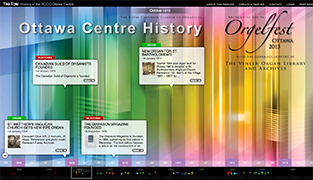 ---
For contact information, see our
Executive List
or press the button below.
---
©Copyright MMXXIII RCCO Ottawa Centre
RCCO-Ottawa Centre is a Registered Charity: 11912 6498 RR0001

This page has been validated by
w3.org
validation as XHTML 1.0 Transitional.
This page was last updated on: Saturday, 16-Sep-2023 22:20:11 EDT