RCCO Ottawa Centre
CRCO Section d'Ottawa




PO Box 2270 Station D
Ottawa ON K1P 5W4
Welcome to the Ottawa Centre of the
Royal Canadian College of Organists
Welcome to the Ottawa Centre RCCO website. Please use the menu above to browse our site.

NEWS BRIEFS
PRO ORGANO OTTAWA
The second concert of the season will be on Monday, October 23, at 7:30 p.m., at Église Saint-François-d'Assise on Wellington at Fairmont. The organist will be David Briggs. The concert information and programme can be found on the Pro Organo page.
---
STUDENT EVENTS
The Ottawa Centre is presenting some exciting new events for organ students this year.
As many of you will know, the centre hosts a concert series each year called Pro Organo, with concerts being played on some of the best organs in Ottawa. This year, we would like to give students the opportunity to play these instruments as well.
On four Saturdays through the year, we will be holding an event where young organ students of all levels can have an opportunity to be introduced to the instrument being used in an upcoming Pro Organo concert. The host organist at each church will give a short introduction to the history of that particular organ, before holding a series of short lessons for the students present.
more »
« less
These events are free of charge, and are presented as an opportunity for organ students in the city to learn more about the wonderful organs that we have in Ottawa. It is also a chance for students to meet each other and form a network of organ enthusiasts!
Information on the next event will be posted shortly.
If you are interested in participating in this event, please e-mail Shawn Potter so that we will know to expect you. Students should bring their organ shoes and some music that they would like to play. We are looking forward very much to meeting many of you in the coming weeks!
---
STUDENT MEMBERSHIP
The Ottawa Centre is offering a complimentary membership to organ students. For full details see: http://rcco.dev/schol.html#studentmember
---
Follow us on our new FACEBOOK page
The Ottawa Centre has a Facebook page. You can follow us at
RCCO/CRCO-Ottawa
We invite you to 'like' our page and share it with your friends, church etc. Events, concerts, videos etc. will be posted for public consumption. Thanks to Josh Zentner-Barrett (Publicity)for creating and maintaining this page.
---
Welcome to new executive members
At our AGM last June the positions of Secretary and Publicity were left unfilled. At our Executive meeting in September, we were please to appoint Joshua Zentner-Barrett for Publicity, and a new member, Leora Nauta as Secretary. We are delighted to welcome these two to our executive.
---
Canadian International Organ Competition (CIOC)
The Canadian International Organ Competition takes place from october 6, to 21, 2017. For full details see the
CIOC
website.
---
GODFREY HEWITT PRIZE
RCCO NATIONAL ORGAN-PLAYING COMPETITION 2017
Montréal, Canada

FIRST PRIZE
THE GODFREY HEWITT PRIZE

JASON BIEL
more »
« less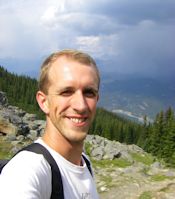 Jason Biel was born and raised on the family farm east of Lacombe, Alberta, where he first learned the piano. He was introduced to organ by Dr. Wendy Markosky at the Canadian University College, Alberta, where he earned an undergraduate degree in organ performance. He studied for a year with Dr. Marnie Giesbrecht through The King's University in Edmonton, during which he assisted Jeremy Spurgeon as organ scholar at All Saints' Anglican Cathedral. In September 2015 he started graduate studies with Hans-Ola Ericsson at McGill University in Montreal, and since November 2015 has also been organist at the parish of L'église du Très-Saint-Nom-de-Jésus. In May 2017 he obtained his Master`s degree and will continue at McGill for one more year in the Graduate Diploma Performance programme; he is currently exploring options for further studies.
---
CENTRE HISTORY
Please note that this timeline can be found by selecting Centre Info | Web Archive pages | Ottawa Cente History Timeline on the menu above.
The Centre History kiosk made its debut at Orgelfest 2013. This is an interractive display which places significant events on a timeline. Bill Vineer supplied muich of the content and Rick St Germain put it all together. Click on the graphic below to access this display.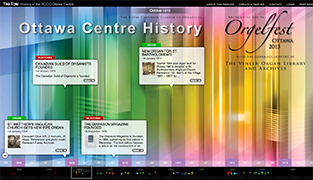 ---
For contact information, see our
Executive List
or press the button below.
---
©Copyright MMXVI RCCO Ottawa Centre
RCCO-Ottawa Centre is a Registered Charity: 11912 6498 RR0001

This page has been validated by
w3.org
validation as XHTML 1.0 Transitional.
This page was last updated on: Tuesday, 17-Oct-17 16:11:44 GMT