RCCO Ottawa Centre
CRCO Section d'Ottawa




PO Box 2270 Station D
Ottawa ON K1P 5W4
Welcome to the Ottawa Centre of the
Royal Canadian College of Organists

Members! Advertise your events.
Something musical happening in your life? Members, send your events to:
publicity (at) rcco-ottawa (dot) ca
and we'll share them on
Facebook
!
COVID-19 virus and the RCCO - Ottawa Centre
The Ottawa Centre takes the COVID-19 virus seriously and is closely monitoring the situation. We will adhere to the advice of Ottawa's Medical Officer. Watch these pages for event changes.
---
NEWS BRIEFS
PRO ORGANO OTTAWA
The wonderful concert by Matthew Whitfied concludes the planned concert series of 2019-2020.
We will now start presenting concerts that we had planned for the 2020-21 season. The first concert will be by Aaron James of Toronto on April 30, 2021. Since we are not selling tickets for the 2020-21 season, we would appreciate receiving donations to help pay the artist's fee, church rental, and video production. A tax receipt will be issued for all donations over $10.
---
AGO 2020 Distinguished Composer Award
Congratulations to Rachel Laurin who was honored by the AGO with the 2020 AGO Distinguished Composer Award. The award was presented by David Hurd. You can hear Rachel's composition, Mr. Mistoffelees Overture in this video. The presentation of the award starts at 35:10 followed by a brief interview with Rachel by Chelsea Chin and then the world premiere of Mr. Mistoffelees Overture played by Alan Morrison.
---
CENTRE HISTORY
Please note that this timeline can be found by selecting Centre Info | Web Archive pages | Ottawa Cente History Timeline on the menu above.
The Centre History kiosk made its debut at Orgelfest 2013. This is an interractive display which places significant events on a timeline. Bill Vineer supplied muich of the content and Rick St Germain put it all together. Click on the graphic below to access this display.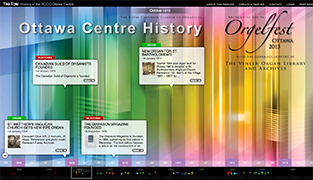 ---
For contact information, see our
Executive List
or press the button below.
---
©Copyright MMXXI RCCO Ottawa Centre
RCCO-Ottawa Centre is a Registered Charity: 11912 6498 RR0001

This page has been validated by
w3.org
validation as XHTML 1.0 Transitional.
This page was last updated on: Saturday, 10-Apr-2021 16:47:13 EDT