RCCO Ottawa Centre
CRCO Section d'Ottawa




PO Box 2270 Station D
Ottawa ON K1P 5W4
Welcome to the Ottawa Centre of the
Royal Canadian College of Organists
Welcome to the Ottawa Centre RCCO website. Please use the menu above to browse our site. If you are using an older browser and don't see the menu then you can use the text menu at the bottom of every page.
Our programme for 2016-2017 has been announced. Please visit the Events page to see all the exciting programs that we have planned. The Centre also runs an organ concert series Pro Organo.
NEWS BRIEFS
PRO ORGANO
Continue (or begin) your celebration of Canada's 150th birthday by attending a concert of Canadian organ music on Friday, February 24th, at 7:30 p.m. at Notre-Dame Cathedral-Basilica on Sussex. You may be surprised at the variety represented! Dr. Jonathan Oldengarm, who is now based in Montreal, will play pieces by Sir Ernest MacMillan, Florence Durell Clark, Healey Willan, Gilles M. Leclerc, Gerald Bales, Barrie Cabena and Rachel Laurin. Full details of the programme are on the Pro Organo page. The programme is available here.
Jonathan Oldengarm has been Director of Music at the Church of St. Andrew and St. Paul in Montreal since 2008. He also teaches liturgical organ playing, accompaniment and improvisation at the Schulich School of Music of McGill University. He is also a prize-winning organist, and maintains a career as a recitalist. You can park in the lot behind the Cathedral, and you don't have to pay, if you put a note on your windshield saying you are attending an event in the church.
…and MASTER CLASS
We are fortunate that Dr. Jonathan Oldengarm will also teach a Master Class at the same church on Saturday, February 25th, starting at 2 p.m. For this, you can sit upstairs in the organ tribune. There is no specific music for this class - students can play anything they wish - but please notify Karen Holmes e-mail to: proOrgano (at) rcco-ottawa (dot) ca if you wish to play, so that we can organize the schedule. To go up to the tribune, enter by the south door on the west façade; you will see the staircase there. This class is free for RCCO members; there is a $10 fee for non-members. Jonathan taught at the Academy at the Convention in Kingston, and is a very friendly teacher!
---
Members' Recital at St Matthias
On November 22, 2015, the Ottawa Centre held a Members' Recital at St. Matthias Anglican Church to celebrate the casavant organ. St Matthias held its last service in February 2016. To mark the occasion, Dr. Dierdre Piper, organist at St Matthias, wrote "Rhapsodic Variations on Engelberg" which was played at the recital and as the final voluntary at St. Matthias. You can hear Dr. Piper play this wonderful piece here.
---
CENTRE HISTORY
Please note that this timeline can be found by selecting Centre Info | Web Archive pages | Ottawa Cente History Timeline on the menu above.
The Centre History kiosk made its debut at Orgelfest 2013. This is an interractive display which places significant events on a timeline. Bill Vineer supplied muich of the content and Rick St Germain put it all together. Click on the graphic below to access this display.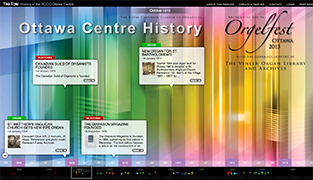 ---
For contact information, see our
Executive List
or press the button below.
---
©Copyright MMXVI RCCO Ottawa Centre
RCCO-Ottawa Centre is a Registered Charity: 11912 6498 RR0001

This page has been validated by
w3.org
validation as XHTML 1.0 Transitional.
This page was last updated on: Saturday, 21-Jan-17 05:17:38 GMT