RCCO Ottawa Centre
CRCO Section d'Ottawa
PO Box 2270 Station D
Ottawa ON K1P 5W4
Welcome to the Ottawa Centre of the
Royal Canadian College of Organists
Royal Canadian College of Organists - Ottawa

Members! Advertise your events.
Something musical happening in your life? Members, send your events to:
publicity (at) rcco-ottawa (dot) ca
and we'll share them on
Facebook
!
COVID-19 virus and the RCCO - Ottawa Centre
Please check each event listing to see the COVID protocols in place for that event. We will follow the advice of Ottawa's Medical Officer and follow the procedures required by the various venues. We will try to have any protocols posted a week in advance.
NEWS BRIEFS
Church Positions Available
---
VIDEO for THOMAS ANNAND'S RECITAL OF FRANCK'S ORGAN WORKS
To fully appreciate Tom's recital on Tuesday Feb 7 (see events page), Tom has created this video discussing the editions and registration of Franck's works.
ACCESS VIDEO
---
GODFREY HEWITT MEMORIAL SCHOLARSHIP WINNER
The 2022 Godfrey Hewitt Memorial Scholarship of $6,000 has been awarded to Maria Gajraj. For details, see this Press Release.
---
CHURCH POSITION AVAILABLE
---
St John's Presbyterian Church, Cornwall
St. John's Presbyterian Church seeks a part-time ORGANIST / DIRECTOR OF MUSIC.
Are you looking for a church with a heart? St. John's Presbyterian Church, a caring community, is seeking a part-time Organist/Director of Music (8-10 hrs/wk) to provide musical leadership in worship. We are a mid-sized congregation located in downtown Cornwall, Ontario with a small, able choir, a 2 manual, 30-stop C. Franklin Legge pipe organ and a grand piano.
Stipend in keeping with RCCO guidelines. For more information or to apply, please contact St. John's Church at: 613-932-8693 or via email at applications@stjohnscornwall.ca
---
CENTRE HISTORY
Please note that this timeline can be found by selecting Centre Info | Web Archive pages | Ottawa Cente History Timeline on the menu above.
The Centre History kiosk made its debut at Orgelfest 2013. This is an interractive display which places significant events on a timeline. Bill Vineer supplied muich of the content and Rick St Germain put it all together. Click on the graphic below to access this display.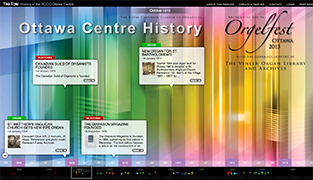 ---
For contact information, see our
Executive List
or press the button below.
---
©Copyright MMXXII RCCO Ottawa Centre
RCCO-Ottawa Centre is a Registered Charity: 11912 6498 RR0001

This page has been validated by
w3.org
validation as XHTML 1.0 Transitional.
This page was last updated on: Friday, 03-Mar-2023 21:17:44 EST