RCCO Ottawa Centre
CRCO Section d'Ottawa




PO Box 2270 Station D
Ottawa ON K1P 5W4
Welcome to the Ottawa Centre of the
Royal Canadian College of Organists
Welcome to the Ottawa Centre RCCO website. Please use the menu above to browse our site. If you are using an older browser and don't see the menu then you can use the text menu at the bottom of every page.
Our programme for 2016-2017 has been announced. Please visit the Events page to see all the exciting programs that we have planned. The Centre also runs an organ concert series Pro Organo.
Clergy Organist Dinner On Line Registration
NEWS BRIEFS
- are found below
Positions Available
.
POSITIONS AVAILABLE
During the summer months, while
Pipelines
is not published, church positions will be listed here.
---
Organist, Église Unie Saint-Marc, Ottawa, Ontario
Église Unie Saint-Marc is seeking an organist for Sunday morning services. We are a small (approximately 40 families) but growing French-speaking United Church congregation on Elgin Street in the centre of Ottawa. Services are held at 11:00 on Sunday mornings and on some other special occasions, and usually last about an hour to 90 minutes. The church organ is a two manual organ, with 11 stops and mechanical action (Lye 1913/Munro 1995). There is a piano in the sanctuary which can also be used to accompany congregational singing. Currently we have no choir, although we hope that this will be possible in future. Because services are conducted in French, a basic understanding of French is a requirement of this position. For more information or to submit your resume, please contact
Linda Madore e-mail to: lindamadore (at) vidrotron (dot) ca
or 819-682-3881.
L'église Unie Saint-Marc recherche un(e) organiste pour les cultes du dimanche matin. Nous sommes une petite paroisse francophone de l'Église Unie, actuellement de 40 familles à peu près, située sur la rue Elgin en plein coeur d'Ottawa. Nos cultes ont lieu à 11h00 le dimanche (et à certaines autres occasions spéciales) et durent en général de 60 à 90 minutes. L'orgue est un instrument à deux claviers, à 11 registres, action méchanique (Lye 1913/Munro 1995). Un piano dans le sanctuaire peut aussi servir pour accompagner les cantiques. Actuellement nous n'avons pas de chorale mais nous aimerions éventuellement en former une. Nos cultes se passent en français; par conséquent, notre organiste doit au moins comprendre le français. Pour des renseignements supplémentaires ou pour soumettre un résumé, veuillez communiquer avec Linda Madore e-mail to: lindamadore (at) vidrotron (dot) ca ou 819-682-3881.
NEWS BRIEFS
CLERGY ORGANIST DINNER ON LINE PAYMENT
You may register and pay for the Clergy Organist dinner on line. Details of the dinner are on the
Events page
---
Video of TRIP to CANTON NEW YORK, MAY 15, 2015
Rick St Germain has put together a great slideshow of the trip to Canton New York.


Organ Crawl, Canton New York
---
Members' Recital at St Matthias
On November 22, 2015, the Ottawa Centre held a Members' Recital at St. Matthias Anglican Church to celebrate the casavant organ. St Matthias held its last service in February 2016. To mark the occasion, Dr. Dierdre Piper, organist at St Matthias, wrote "Rhapsodic Variations on Engelberg" which was played at the recital and as the final voluntary at St. Matthias. You can hear Dr. Piper play this wonderful piece here.
---
Composition Competition
The Toronto Centre is offering a $2,500 prize for an organ composition by a Canadian composer in celebration of Canada's Sesquicentennial in 2017. Details are found here.
---
CENTRE HISTORY
Please note that this timeline can be found by selecting Centre Info | Web Archive pages | Ottawa Cente History Timeline on the menu above.
The Centre History kiosk made its debut at Orgelfest 2013. This is an interractive display which places significant events on a timeline. Bill Vineer supplied muich of the content and Rick St Germain put it all together. Click on the graphic below to access this display.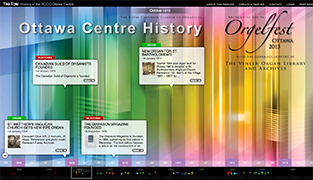 ---
For contact information, see our
Executive List
or press the button below.
---
©Copyright MMXVI RCCO Ottawa Centre
RCCO-Ottawa Centre is a Registered Charity: 11912 6498 RR0001

This page has been validated by
w3.org
validation as XHTML 1.0 Transitional.
This page was last updated on: Friday, 12-Aug-16 15:15:30 GMT