RCCO Ottawa Centre
CRCO Section d'Ottawa
PO Box 2270 Station D
Ottawa ON K1P 5W4
Welcome to the Ottawa Centre of the
Royal Canadian College of Organists
Royal Canadian College of Organists - Ottawa

Members! Advertise your events.
Something musical happening in your life? Members, send your events to:
publicity (at) rcco-ottawa (dot) ca
and we'll share them on
Facebook
!
COVID-19 virus and the RCCO - Ottawa Centre
Please check each event listing to see the COVID protocols in place for that event. We will follow the advice of Ottawa's Medical Officer and follow the procedures required by the various venues. We will try to have any protocols posted a week in advance.
NEWS BRIEFS
PRO ORGANO 2022-2023 SEASON ANNOUNCED
The 2022-2023 season of Pro Organo has been announced and the details can be found on the Pro Organo page. The series will start with a fund raising concert played by Matthew Larkin and Shawn Potter. Details are also on the Pro Organo page.
---
STUDENT RECITAL
Did you miss the Student Recital? You can view it here until the end of January.
---
GODFREY HEWITT MEMORIAL SCHOLARSHIP WINNER
The 2022 Godfrey Hewitt Memorial Scholarship of $6,000 has been awarded to Maria Gajraj. For details, see this Press Release.
---
CHURCH POSITION AVAILABLE
St. Stephen's Anglican Church, Ottawa
is seeking a part-time Director of Music (15 hours per week) to lead our parish in worship, song and celebration.
We are a diverse, welcoming and inclusive Christian community, with a 12 voice SATB choir.
The successful candidate will be able to demonstrate skills and abilities in the following areas:
Musical and technical ability in playing the piano and organ and directing amateur choirs.
A passion for leading and playing music to enhance worship, both traditional and innovative.
Working in a collaborative environment as a team member.
Knowledge, experience and comfort with traditional and contemporary styles of music for praise,
Highly organized, with strong leadership skills
Comfort with software and technology used in-person services as well as online broadcasting.
Remuneration will be based on experience, qualifications, and the RCCO Salary Scale (2022). A detailed job description will be provided on request. Send inquiries, cover letter and resumé to: office@StStephensOttawa.org Selected candidates will be invited to interview, audition and provide references on request. Competition closes Sept 30, 2022.
www.ststephensottawa.org
---
CENTRE HISTORY
Please note that this timeline can be found by selecting Centre Info | Web Archive pages | Ottawa Cente History Timeline on the menu above.
The Centre History kiosk made its debut at Orgelfest 2013. This is an interractive display which places significant events on a timeline. Bill Vineer supplied muich of the content and Rick St Germain put it all together. Click on the graphic below to access this display.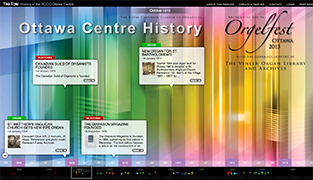 ---
For contact information, see our
Executive List
or press the button below.
---
©Copyright MMXXIII RCCO Ottawa Centre
RCCO-Ottawa Centre is a Registered Charity: 11912 6498 RR0001

This page has been validated by
w3.org
validation as XHTML 1.0 Transitional.
This page was last updated on: Monday, 03-Oct-2022 07:58:26 EDT