RCCO Ottawa Centre
CRCO Section d'Ottawa
PO Box 2270 Station D
Ottawa ON K1P 5W4
Welcome to the Ottawa Centre of the
Royal Canadian College of Organists
Royal Canadian College of Organists - Ottawa

Members! Advertise your events.
Something musical happening in your life? Members, send your events to:
publicity (at) rcco-ottawa (dot) ca
and we'll share them on
Facebook
!
COVID-19 virus and the RCCO - Ottawa Centre
Please check each event listing to see the COVID protocols in place for that event. We will follow the advice of Ottawa's Medical Officer and follow the procedures required by the various venues. We will try to have any protocols posted a week in advance.
NEWS BRIEFS
Church Positions Available
---
PRO ORGANO FUNDRAISER WAS A SUCCESS
The Pro Organo Fundraising Gala was a huge success in spite of the Queensway closure.
Now that the Gala Fund-Raising Recital to raise funds for the Pro Organo Recital Series is over, here is the final financial outcome. This was the concert held on October 2, 2022, in the Carleton Dominion-Chalmers Centre, after it had been postponed from the original date of March 22, 2020 because of the pandemic. Here is a breakdown of the amounts raised since January 2020 when the RCCO, Ottaws Centre, first announced this fund-raising project.
more »
« less
$8,071 donated from January 2020 to the postponement of the original concert ten weeks later in March 2020
$550 donated between March 23, 2020 and December 31, 2020 - a pandemic year
$4,400 donated in 2021 - still a pandemic year
$4,100 donated in 2022 up to September 30
$3,490 donated on the day of the concert, October 2, 2022, some in person, some through the website for a total of $20,611!
The additional cash received at the door on the day of the concert brings the total up to $21,300! Had the Queensway not been closed on the day of the concert, the cash at the door would have been even higher! - but we really want to thank all of you who braved your way downtown in spite of the closed roads to attend and support the concert!
During this same period, an additional amount of $7,000 was also received for Pro Organo though without a direct connection to the fund-raising - most of that was a single bequest - and so Pro Organo is farther ahead by $28,300 than it was before the pandemic! Since Pro Organo sometimes loses several thousand dollars a year in operational terms, this should keep it going for a number of years! Knowing that the Recital Series is financially back in good shape again is a great comfort to us all - thank you, everyone!
We particularly want to thank the artists, Matthew Larkin and Shawn Potter, who played so beautifully on the day, and of course Rachel Laurin who was to have been one of the featured artists in 2020 but who was not available this October. We also want to thank Carleton University who most helpfully co-sponsored the event. And we also want to reiterate our thanks to all of you, people who love organ music, who have so faithfully supported Pro Organo and its work for thirty-five years! Thank you again for all your constant support.
Many thanks to those who came to help at the door on the day - Bob Jones, Heather Rice, Gilles Leclerc, Mai-yu Chan, Ross Jewell, Don and Suzanne Marjerrison, and several others. And of course our thanks go always to Karen Holmes who has so successfully managed Pro Organo for so many years.
All this money the Centre has now raised will keep Pro Organo on a stable financial footing for the next few years; thank you all again for your support. See you at the upcoming Pro Organo concert, when Aaron Tan will be playing at Paroisse St-Clement (Église Ste-Anne) on Monday November 14 at 7.30 pm.
Frances Macdonnell
---
STUDENT RECITAL
Did you miss the 2022 Student Recital? You can view it here until the end of January.
---
GODFREY HEWITT MEMORIAL SCHOLARSHIP WINNER
The 2022 Godfrey Hewitt Memorial Scholarship of $6,000 has been awarded to Maria Gajraj. For details, see this Press Release.
---
CHURCH POSITION AVAILABLE
---
Christ Church Huntley, Carp
Looking to play in a peaceful country setting or perhaps you are a student wanting to make some extra money?
Christ Church Huntley is a beautiful country church located minutes from Kanata, Stittsville & Almonte.
We are part of the Anglican Parish of Huntley and are in need of an organist to play Sunday mornings at 9:00 am as well as Christmas Eve. We have a 7F40 Class B Digital Organ made by Roland Europe SpA. Remuneration Negotiable.
For more information or to apply please email
huntleyoffice@bellnet.ca
---
CENTRE HISTORY
Please note that this timeline can be found by selecting Centre Info | Web Archive pages | Ottawa Cente History Timeline on the menu above.
The Centre History kiosk made its debut at Orgelfest 2013. This is an interractive display which places significant events on a timeline. Bill Vineer supplied muich of the content and Rick St Germain put it all together. Click on the graphic below to access this display.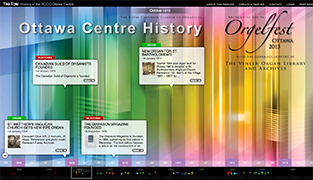 ---
For contact information, see our
Executive List
or press the button below.
---
©Copyright MMXXII RCCO Ottawa Centre
RCCO-Ottawa Centre is a Registered Charity: 11912 6498 RR0001

This page has been validated by
w3.org
validation as XHTML 1.0 Transitional.
This page was last updated on: Wednesday, 07-Dec-2022 12:56:56 EST