RCCO Ottawa Centre
CRCO Section d'Ottawa
PO Box 2270 Station D
Ottawa ON K1P 5W4
Welcome to the Ottawa Centre of the
Royal Canadian College of Organists
Royal Canadian College of Organists - Ottawa

Members! Advertise your events.
Something musical happening in your life? Members, send your events to:
publicity (at) rcco-ottawa (dot) ca
and we'll share them on
Facebook
!
COVID-19 virus and the RCCO - Ottawa Centre
The Ottawa Centre takes the COVID-19 virus seriously and is closely monitoring the situation. We will adhere to the advice of Ottawa's Medical Officer. Watch these pages for event changes.
Please note that for any live concert or event, you must present proof of full vaccination with photo ID and be masked.
NEWS BRIEFS
GODFREY HEWITT MEMORIAL PRIZE WINNER 2021
The Godfrey Hewitt Prize of $5,000 is given to the first place winner of the National Organ Playing Competition. The winner for 2021 is Manuel Piazza. Read it all in the Press Release.
Congratulations also to Samuel Lee who won the Muriel Gidley Stafford Prize for 3rd place.
---
GODFREY HEWITT SCHOLARSHIP WINNER 2021
The Godfrey Hewitt Memorial Scholarship for 2021, amounting to $5,000, has been awarded to Martin Jones. Read it all in the Press Release.
---
CENTRE HISTORY
Please note that this timeline can be found by selecting Centre Info | Web Archive pages | Ottawa Cente History Timeline on the menu above.
The Centre History kiosk made its debut at Orgelfest 2013. This is an interractive display which places significant events on a timeline. Bill Vineer supplied muich of the content and Rick St Germain put it all together. Click on the graphic below to access this display.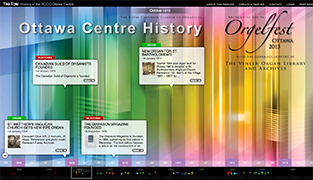 ---
For contact information, see our
Executive List
or press the button below.
---
©Copyright MMXXI RCCO Ottawa Centre
RCCO-Ottawa Centre is a Registered Charity: 11912 6498 RR0001

This page has been validated by
w3.org
validation as XHTML 1.0 Transitional.
This page was last updated on: Wednesday, 12-Jan-2022 09:30:37 EST