RCCO Ottawa Centre
CRCO Section d'Ottawa




PO Box 2270 Station D
Ottawa ON K1P 5W4
Welcome to the Ottawa Centre of the
Royal Canadian College of Organists
Welcome to the Ottawa Centre RCCO website. Please use the menu above to browse our site.

Members! Advertise your events.
Something musical happening in your life? Members, send your events to:
publicity (at) rcco-ottawa (dot) ca
and we'll share them on
Facebook
!
---
COVID-19 virus and the RCCO - Otawa Centre
The Ottawa Centre takes the COVID-19 virus seriously and is closely monitoring the situation. We will adhere to the advice of Ottawa's Medical Officer. Event cancellations will be posted here.
The AGM is postponed. Details will be on the website later.
Our plans for next season (2020-2021) are on hold pending the state of the virus.
---
NEWS BRIEFS
Messiaen: L'Ascension
Music at Christ Church Cathedral, Victoria
Messiaen: L'Ascension - organist Donald Hunt (Program starts at 5:15)
This meditation of music and words marks both the Feast of the Ascension as well as the one-year anniversary of Patrick Wedd's death. Hunt is a former student of Wedd and the short reflections will be offered by clergy who knew him well throughout his impressive career.
This is a recording of a live stream to hear Messiaen's own organ transcription (1933-1934) of his orchestral masterpiece "l'Ascension," played by Donald Hunt, Director of Music at Christ Church Cathedral, Victoria to the Glory of God and in loving memory of Patrick Wedd (January 4, 1948 - May 19, 2019), pre-eminent Canadian church musician.
more »
« less
This meditation of music and words marks both the Feast of the Ascension as well as the one-year anniversary of Patrick Wedd's death. Hunt is a former student of Wedd and the short reflections will be offered by clergy who knew him well throughout his impressive career.
Suggested donation to the Patrick Wedd Music Fund at Christ Church Cathedral, Montreal: https://www.canadahelps.org/en/dn/5518
---
Expand the possibilities for playing hymns
Another Virtual Workshop by David Enlow
Join David Enlow (virtually) for two sessions on hymn playing.
You can still view the sessions even if they are finished.
Sat May 9, 2PM on Facebook Live
Topics:
Introductions
the first verse
Tempo and breathing
Sat May 16 at 2PM on Facebook Live
Topics:
More introductions
Interludes
Last verses
Join David Enlow in this free organ music workshop on Facebook Live on Saturday May 9 at 2 PM, hosted by former NYC AGO Dean David Enlow, a seasoned organ teacher and workshop presenter for national and chapter events. Bring your questions, read others' comments and join in the discussion!
This workshop is sponsored by the AGO.
---
PIPEDREAMS on CBC GEM
Geat news! The acclaimed documentary 'Pipe Dreams' is streaming free of charge on CBC Gem. Now's your chance to relive the excitement of the 2017 CIOC!
---
Unlimited Access to the iRCO Virtual Campus
The Royal College of Organists has announced a number of initiatives to support organists through the Covid-19 pandemic.
Recognising that many organists are now looking for ways to use their lockdown time for learning and practice, the College has now opened the full iRCO virtual campus to all organists.
more »
« less
This means that until 30 June 2020, guest users as well as College members can now access for free more than 300 videos, audio files, papers, articles and other content covering everything from technique to repertoire, performance to professional skills.
Anyone wishing to access iRCO for the first time should visit i.rco.org.uk and register for a guest or member account as appropriate (existing iRCO users should continue to sign in as normal).
---
DONATION OF STOCKS
We are pleased to announce that the Ottawa Centre can now accept donations of appreciated stock. You will receive a charitable tax receipt for the full value of the stock on the day the donation is received, and you won't pay capital gains on the appreciated value. To donate stocks, please download this form. For further information, contact Frances Macdonnell.
---
EXAMINATION PREPARATION BURSARY
Are you thinking of doing one of the RCCO exams? The Ottawa Centre has decided to offer support for centre members who wish to pursue certification from the RCCO. The Examination Bursary of $200 is intended to be used by the examination candidate to pay for a small number of lessons from a senior organist familiar with the examination requirements and standards.
more »
« less
The lessons may be on the topics of the candidates choice (repertoire, practical tests, written tests or ear training) and the Centre can provide recommendations on appropriate teachers with experience of the standards of performance expected for successfully completing RCCO examinations.
To be awarded an Examination Bursary please contact in confidence the Membership Convenor: Donald (dot) Russell (at) rcco-ottawa (dot) ca for the Ottawa Centre. Applications are typically made in the fall. Payment will be made to the applicant after confirmation of registration for an examination has been received.
---
Follow us on our new FACEBOOK page
The Ottawa Centre has a Facebook page. You can follow us at
RCCO/CRCO-Ottawa
We invite you to 'like' our page and share it with your friends, church etc. Events, concerts, videos etc. will be posted for public consumption. For members who have an event coming up, we can advertise it on our page. Send your information to
Publicity
. Thanks to Josh Zentner-Barrett for creating and maintaining this page.
---
CENTRE HISTORY
Please note that this timeline can be found by selecting Centre Info | Web Archive pages | Ottawa Cente History Timeline on the menu above.
The Centre History kiosk made its debut at Orgelfest 2013. This is an interractive display which places significant events on a timeline. Bill Vineer supplied muich of the content and Rick St Germain put it all together. Click on the graphic below to access this display.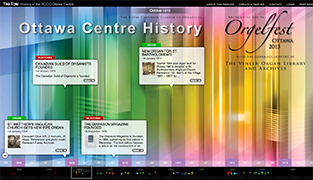 ---
For contact information, see our
Executive List
or press the button below.
---
©Copyright MMXX RCCO Ottawa Centre
RCCO-Ottawa Centre is a Registered Charity: 11912 6498 RR0001

This page has been validated by
w3.org
validation as XHTML 1.0 Transitional.
This page was last updated on: Monday, 25-May-2020 15:02:32 EDT