RCCO Ottawa Centre
CRCO Section d'Ottawa
PO Box 2270 Station D
Ottawa ON K1P 5W4
You are here:
Events 2011-2012
ARCHIVE CENTRE EVENTS
2011-2012 SEASON
Events will be posted as soon as I receive the information.
This year there will be 2 educational workshops organized by the Education Committee. The main centre programme will also include a number of educational events. Workshops organized by the Education Committee are shown with a green title as above, and green bar down the side as in this text.
---
---
Members' Social and BARBEQUE
Rockliffe Park
Rockliffe Parkway
Sunday, September 18, 2011
Time: 3:00 pm

With summer almost behind us we will gather for a barbeque and picnic at Rockcliffe Park. Fall usually cooperates with lovely weather and will enjoy a fall gathering in the midst of one of Ottawa's most lovely and historic parks. In addition to celebrating the new College year, welcoming new members and reacquainting with other members, we will hear (and see pictures) from members who travelled to various organ conferences and events during the summer break. Spouses and partners are invited and children too!
Please bring a dessert or salad; the mixed grill and drinks will be provided by the Centre. Rockcliffe park is a lovely park that is accessed off the Rockcliffe Parkway which is the continuation of Sussex Drive. Turn left if you are heading east on the parkway and the parking is below the covered pavilion. We will occupy picnic tables near the pavilion.
---

To Top
HISTORIC ORGAN COMMITTEE EVENT
Emmanuel United Church, Arnprior
287 Harrington Street, Arnprior
Sunday, September 18, 2011
Time: 4:00 pm

The Historic Organs Committee of the RCCO will present a plaque to recognize the historic Casavant tracker organ (Opus 124) in Emmanuel Anglican Church, Arnprior; the organ, dates from 1900 and is essentially unchanged.
The event will take the form of a Hymn-Sing, interspersed by organ pieces to be played by Gilles Leclerc, RCCO National President. The choir for the event will be the Cranmer Singers, directed by Frances Macdonnell. This event, which also forms part of the church's 150th anniversary celebrations, has been organized by John Wanless, Convenor of the Historic Organs Committee of the Ottawa Centre. Do plan to come to hear this historic instrument at this historic event!
---

To Top
ORGAN CRAWL to ITHICA NEW YORK
September 29-October 1, 2011

Our visit will begin about 10:30am Friday morning on the campus of Cornell University. Most folks will be driving down that morning so please work out driving times accordingly. Ithaca is west of the 81 west of a smaller town of Cortland. The way is signed well, We will first visit the Skinner organ in the University's main auditorium. We will then visit the Italian baroque organ and the German chamber organ at the faculty of music. Our afternoon will focus on the GOART organ in the Anna Taylor Memorial Chapel. On Friday evening we will attend a wind ensemble concert on the campus:
Wind Symphony and Wind Ensemble;
Cynthia Johnston Turner, conductor,
with guest composer William Kraft and soloist Tim Feeney.
Features Kraft's Timpani Concerto (1983, newly arranged for winds),
selections from Carl Orff's Carmina Burana,
and works by Chance, Coakley, Rudin, Clifton Williams, and Jules Strens.
Friday, September 30 8:00 pm, Bailey Hall
On Saturday morning, we will visit two significant instruments in Ithaca, at First Unitarian Church (A Wolff organ) and a new organ installed at First Presbyterian Church. We should be finished up after lunch for a lovely drive back to Ottawa well before sundown. I will have details on all the organs for distribution in Ithaca.
There are two rooms booked at the Hampton Inn (607) 277-5500 under reservation number 80976785. These are available on a first come first served basis. There is another hotel booked in a nearby community Cortland at the Imperial Motel (607) 753_3383 under reservation number 1069303. This hotel is about 20 mins from Ithaca but given we are there for only one night I think it will be serviceable.
Note from webmaster:
If you are interested in this organ crawl, please contact Ian MacKay directly.
---

To Top
LECTURE RECITAL on the ORGAN WORKS OF JEHAN ALAIN
with Thomas Annand
Please note venue change
Knox Presbyterian Church, Ottawa
Elgin at Lisgar
Tuesday, November 8, 2011
Time: 7:30 pm
Free to members
$10 for non-members

In celebration of Jehan Alain's 100th birthday, Thomas Annand is offering a lecture-recital of the organ works of this famous composer.
There have been many events celebrating Jehan Alain's legacy around the organ world and this is an opportunity to hear more about his short life but significant output, and to hear how his works fit into the 20th-century French organ school. Alain was born in the western suburbs of Paris, into a family of musicians. His father, Albert Alain, was an enthusiastic organist, composer and organ-builder who had studied with Guilmant and Vierne. His youngest sister is the well known organist Marie-Claire Alain. Between 1927 and 1939, he attended the Paris Conservatoire where he achieved much success. He studied the organ with Dupré and composition with Dukas. His short career as a composer began in 1929, when Alain was 18, and lasted until the outbreak of the Second World War ten years later. His output was influenced by the musical language of the earlier Debussy and his contemporary Olivier Messiaen. Tragically, he was killed by enemy action in 1940 and thus his musical output stands as a small but very significant part of the French organ school in the 20th century.
A poster of the event
is available here
.
---

To Top
RCCO PUB NIGHT
Heart and Crown, Byward Market
67 Clarence Street
Monday, November 28, 2011
Time: 6:00 pm

As before, we will meet at the Heart and Crown in the Byward Market 67 Clarence Street, for an evening of fun. Meet at 6:00 for a pub dinner and then organ DVDs and YouTube videos of organs, organists, preacher bloopers, etc. The pub has given us the use of a private room for FREE so all we need to do is show up and have fun.
---

To Top
A WORKSHOP ON IMPROVISATION
Workshop Leader: Kirkland Adsett,
Director of Music, St. Matthew's Church
St. Matthew's Anglican Church
217 First Avenue, Ottawa (near Bank)
Sat, February 11, 2012
Time: 10:00 am - 12:00 noon

Free to members and $10 for non-members
This workshop on the subject of Improvisation will be given by Kirkland Adsett, Director of Music at St. Matthew's Anglican Church, where he directs both the Choir of Men and Boys and the Choir of Women and Girls.
Kirk's workshop will focus on the approach used by his teacher in Germany, Otto Kraemer, starting off with very simple 'forms' to encourage reluctant improvisors. All of us, as Kirk says, can improvise and make music spontaneously; we just need to free ourselves and go to a place of connecting with the sound. Everybody may participate, and nobody has to perform if they don't want to. Come and learn! - all members are welcome.
Kirk Adsett, coming to St. Matthew's from the Church of St. Simon the Apostle in Toronto, is a wonderful new asset to the Ottawa Centre, and a very fine improviser. Please come to this workshop and get to know him, if you haven't already. A graduate of Wilfrid Laurier University, Kirk then received a Master of Sacred Music degree from the Westminster Choir College, Princeton, and also pursued further studies in organ improvisation in Europe. Among his greatest interests are liturgical improvisation, composition, and the teaching of all kinds of music to children.
You can enter St. Matthew's Church either by the church door on Glebe Avenue, or by the office door at 217 First Avenue; free parking is available on both streets. I look forward to seeing you there, and hope we will have a large turnout to welcome Kirk to the Ottawa Centre!
---

To Top
STUDENT RECITAL
Please note venue change
St. Matthias Church
555 Parkdale Ave (South of the Queensway)
Sunday Feb 26, 2012
4:30 pm

There is parking on Warwick Place immediately behind the church. Turn East onto Sherwood Drive from Parkdale and the first left is Warwick.
Admission to the recital is free, but donations are accepted for the Student Scholarship Fund (and income tax receipts will be issued for donations over $10).
Come and hear our students in recital.
---

To Top
ORGAN CLASS - KIWANIS FESTIVAL
Glebe St James United Church
650 Lyon St S (at First Ave.)
Saturday April 14, 2012
9:00 AM

Although this is not one of our programmes, it does involve many of our members and we are providing $500 in scholarship money to the participants.
The adjudicator this year will be Michael Bloss.
Come and hear our students in recital.
---

To Top
ORGANIST-CLERGY DINNER
Rose Bowl Restaurant (Newly renovated)
1717 Carling Ave
(West of Clyde on the North side)
Monday April 23, 2012
6:00 pm gathering
for 6:30 pm dinner
Speaker: Rev. Dr. Mervin Saunders
RCCO Ottawa Centre Chaplain
This is a wonderful opportunity to socialize in a relaxed atmosphere with your clergy and colleagues.
Menu:
soup or salad
Dinner: (chosen at the restaurant)
Steak, chicken or salmon
Dessert
Tea/Coffee

Cost: $40.00
Please reserve by
April 12th
. Send cheques payable to RCCO, Ottawa Centre to:
Suzanne Marjerrison
476 Evered Avenue
Ottawa ON K1Z 5K8

---

To Top
MEMBERS' SOCIAL
Vineer Organ Library
Saturday May 5, 2012
4:00 pm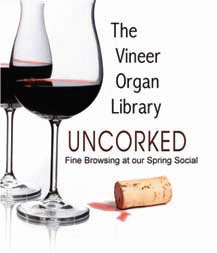 Bill is well known to everyone as curator of the Vineer Organ Library. Bill has kindly offered his home and library as the venue for our social event in May. Everyone is invited but we hope to especially welcome new members and friends. Those attending are asked to bring either a salad or dessert and a drink; The Centre will spring for the barbeque meats and provide tea / coffee. Everyone is encouraged to browse through the library's extensive collections.
For directions to Bill's Library, please see our newsletter.
---

To Top
A WORKSHOP ON CANADIAN AND AMERICAN ORGAN MUSIC
Workshop Leader: Valerie Hall,
Director of Music, Holy Rosary Cathedral, Regina, Saskatchewan
Paroisse St-François d'Assise
1060 Wellington Street West (at Fairmont)
Sat, May 12, 2012
Time: 1:00 pm - 3:00 pm

In this workshop, Past President (National) Valerie Hall will provide some recent offerings suitable for service use by Western composers. These will include works for organ by non-RCCO composers as well as her favorites by Nicholas Fairbank (British Columbia) and Jacobus Kloppers (Alberta). In addition, selections from a brand-new RCCO Publication of organ pieces will be presented.
Free to members and $10 for non-members
---

To Top
ANNUAL GENERAL MEETING
St. Paul's Presbyterian Church
971 Woodroffe (just North of the Queensway)
Monday June 4, 2012
Time 7:00 pm dessert and social
7:30 meeting

This is your centre. The executive values the feedback received from members. Come out and voice your opinions on what you would like to have your Centre do.
The Annual General Meeting of the Ottawa Centre is our opportunity to conduct the necessary business of the College but also to celebrate the year past and look forward to the coming year. All members are encouraged to attend and participate in decision making and to hear reports of the various convenors and national council representatives.
We will also hear some exciting news about our convention "Orgelfest" to be held in August 2013.
There is plenty of parking and the room is air-conditioned.
---
ARCHIVED EVENTS OF PREVIOUS SEASONS
---
©Copyright MMXXIII RCCO Ottawa Centre
RCCO-Ottawa Centre is a Registered Charity: 11912 6498 RR0001

This page has been validated by
w3.org
validation as XHTML 1.0 Transitional.
This page was last updated on: Thursday, 02-Dec-2021 10:31:04 EST