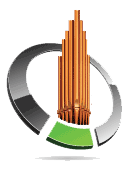 ORGELFEST SCHEDULE
ORGELFEST PUBLIC CONCERTS
2013 National Organ Playing Competition
The Royal Canadian College of Organists 2013 National Organ Playing Competition will be held during Orgelfest 2013. This competition is open to the public and admission is free.
PROGRAMME
TICKET SALES
All events are part of the Orgelfest registration package, except for the banquet and the Friday Montreal Organ Crawl which require a separate ticket. Further information on programme, transportation between events, and exhibit times are found in the convention book.
Since many of the organ consoles are out of the view of the audience, we will have a video screen so that the audience can watch the recitalist.
TICKETS for PUBLIC CONCERTS
Click "Public Concert information" button above for further information. There will be plenty of tickets available for all public concerts at the door.
Tickets to all the Orgelfest 2013 public concerts will be available at the door. Call Frances at 613-292-5285 for information.

Admission to the church services and the Semi-Finals and Finals of the Competition is free to the public.

Legend:
Video Screen for concert:
Air Conditioned Venues:

Simultaneous Translation
Time
Event
Artist/ Program
Location
Saturday Aug 10, 2013
Free Public
Concert
1:00 pm
&
7:00 pm
National Organ Playing Competition Semi-Finals
(Finals on Tuesday:

St Barnabas
Sunday Aug 11, 2013
Church
Services
am
Church Services at various churches
Public
Concert

Public Concert
Tickets: $35
available at the door

8:00 pm
Opening Choral Recital



Programme
St Matthew's
Monday Aug 12, 2013
7:30 am
National Council (Breakfast meeting)
Hotel: Capital
9:15 am
Workshop
Hotel: Chaudière
9:15 am
Workshop
Hotel: Richelieu
10:30 am
Workshop
Hotel: Chaudière
10:30 am
Workshop
Hotel: Richelieu
12:00 noon
Luncheon
Hotel: Ballroom
2:00 pm
College Service
Order of Service
St Barnabas
Public
Concert

Public Concert
Tickets: $20
available at the door

3:30 pm
Organ Concert


Programme
St. Barnabas
6:00 pm
Presidents' Advisory Council meeting
St Peter's
Public
Concert

Public Concert
Tickets: $25
available at the door

8:00 pm
Organ Concert


Sponsored by: The Costigan Estate
Programme
St-François d'Assise
Tuesday Aug 13, 2013
8:00 am
St Peter's
9:15 am
Workshop
Hotel: Chaudière
9:15 am
Workshop
Hotel: Richelieu
10:30 am
Workshop
Hotel: Richelieu
10:30 am
Workshop


Hotel: Chaudière
Free Public
Concert
1:30 pm
National Organ Playing Competition Finals


St Andrew's
Public
Concert

Public Concert
Tickets: $25
available at the door

8:00 pm
Organ Concert


Co-presented by CIOC
Programme
Notre-Dame
Wednesday Aug 14, 2013
8:00 am
St John's
10:10 am
An Historical Cruise on the Ottawa River
aboard the Empress of Ottawa (1½ hours)
Depart Jacques Cartier Park Wharf
12:00 noon
Centre Presidents' meeting
St Peter's
Public
Concert

Public Concert
Tickets: $20
available at the door

2:00 pm
Organ Concert


Programme
Bruyère Chapel
(Sisters of Charity)
4:15 pm
Annual General Meeting
Hotel: Richelieu
6:30 for
7:00 pm
Banquet
(Ticket Required)

Natalie Choquette / Scott Bradford
Sponsored by Groupe Phaneuf Inc.

(Competition winners will be announced)
Hotel
Ballroom
Thursday Aug 15, 2013
8:00 am
St. Patrick's
9:15 am
Workshop
Hotel
Ballroom
Public
Concert

Short Public Concert
Tickets: $15
available at the door

2:00 pm
Recital


Programme
First Baptist
2:45 pm
3:00 pm
Prelude
Convocation
First Baptist
Public
Concert

Public Concert
Tickets:
$60 Keyboard view
$45 non-kybd view
available at the door

8:00 pm
Gala Piano Recital


Bach: The Art of Fugue
Programme
Dominion-Chalmers
Friday Aug 16, 2013
8:00 am
Montreal
Organ Crawl
(Ticket Required)
9:00 am
Ottawa
Organ Crawl
(no charge)

(Please sign up at Registration Desk)
---
© Copyright MMXIII RCCO Ottawa Centre
This page was last updated on: Sunday, 16-Sep-2018 13:45:47 EDT